Sunbonnet Smart
Sunbonnet Smart is here! Learn practical information to help you through ... &nbsp
see full bio
Sunbonnet Smart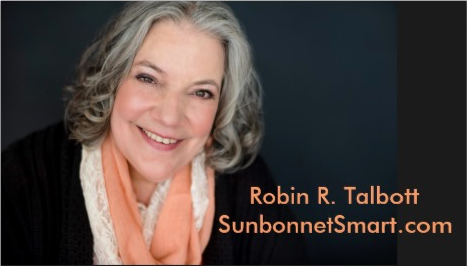 Sunbonnet Smart is here!
Learn practical information to help you through impractical times.
Years ago, when the United States of America was in the Depression Era, there were people who sadly jumped out of windows in despair and there were people who not only survived, but prospered. The times were not the reason, but each individual's reaction to the times that brought them success or failure. The main difference between then and now is people of the Depression were raised with life skills making them independent and self-sufficient. Now, many of us depend on the labor of others to provide us with our necessities and may not know how to provide for ourselves.
That's where Sunbonnet Smart can help!

SunbonnetSmart is the web site, blog and on-line business of Robin R. Talbott.
Why would we choose a Sunbonnet as our symbol of triumph? Our symbol of not only surviving, but thriving? Because Sunbonnets sat upon the heads of some of the most brilliant minds of the 20th century. Are we talking about Henry Ford? Thomas Edison? Or Albert Einstein?
No! We mean the many heroes in Sunbonnets who kept the home fires burning when there wasn't any wood, who had dinner on the table when there wasn't any food and who figured out a way to water the garden when there wasn't any rain. Everyday these women put on brave smiles when they awakened to a day of uncertainly. Many times they did not know how to make it through, and yet, somehow they did. And, we can as well!
Join us by putting on your Sunbonnet and getting Sunbonnet Smart!
Remember these sayings we've heard all our lives:
HOME is where the heart is.
Keep a good HEAD on your shoulders.
Have a ROOF over your head.
Put FOOD on the table.
Have CLOTHES for the body.
Keep MONEY in the bank.
Seek BEAUTY for...
To create a post, manage your BlogHer profile, check your Opportunities, and look up BlogHer Publishing Network information, please go to the FULL SITE
SunbonnetSmart.com on BlogHer.com