Three Ways to Tie a Scarf
Happy Bastille Day!
Coco Chanel said, "Dress shabbily and they notice the dress; dress impeccably and they notice the woman."
Chanel dressed to her personal style. She was unafraid to experiment with the trends - creating trademarks and changing the face of fashion.
French women have a je ne sais quoi.
What is their secret? In part ... They work from an I-love-everthing-in-my-closet motto to choose gorgeous pieces that flatter their faces and figures.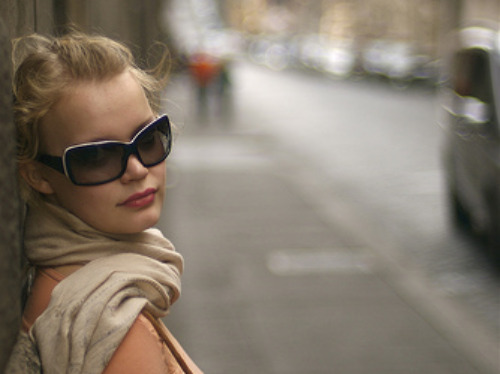 The French girl not only considers how she looks in her clothes, but how she feels.
When I feel something's missing from my outfit, I turn to the scarf. For an extra pop of color or texture, the scarf is my go-to. Knotted, looped, wrapped (or infinity), scarves are versatile accessories.
Get in touch with your inner French girl with one of these looks:
The Braid
This works well with a thicker scarf - like a pashmina. Although it looks complicated, this scarf style is a snap to tie. It's a twist on the noose look (which I avoid because it makes me feel stiff - like I was in a car accident, and broke my neck).

How to braid a scarf
Step 1: Double up the scarf, folding it in half, and wrap it around your neck.
Step 2: Take one end and thread it through the loop.
Step 2: Twist the loop, and thread through the other end.
The Triangle - aka The Muffler Style
The nickname is silly, but the style is sport-chic.
Step 1: Fold a square scarf diagonally into a triangle. If you have a longer, rectangular scarf: Fold and then fold again to form a triangle.
Step 2: Lay the scarf across your chest, with the thickest part of the scarf pointing down in the center. Drape the two ends across your shoulders and tie/wrap/cross the ends together around the back of your neck.
Step 3: Shift the scarf so it's positioned how you like. I wear the point to the side.
The Rapunzel
This is my summer go-to style, as it's best with a light-weight skinny scarf. It looks fantastic with a tank top.
Step One: Take the ends of the scarf and tie together, leaving about 6 inches at the ends.
Step Two: Turn your knot as seen in the picture below. There are three parts of the scarf used for braiding. The first is a section of the loop. The second and third parts are the loose ends of the scarf. Use the three parts to start braiding.
Step Three: Tie the ends of the braid together, so they don't unravel. Throw the loop over your head, and turn the braided side on your left or right side.
Et voilà! You have a chic look to rock!
Which of the above will you try?
Ciao for now.
If you liked this, stop by rudeysroom.com and sign up to follow me there.
Rudeysroom is a collection of ideas, intentions, stories, action plans, noticings, and refinements. I write about creating, exploring, growing, parenting, teaching, and styling, all bundled in the quest to balance roots and wings.
My driving force came from my mom, who always said:"I gave you roots to guide you and wings so you can fly." I've built my life around that motto. I want to slow down to create roots and lasting connections, and I want to strengthen my wings to explore and grow.
I am passing on to my daughters what my mom gave me: Roots and wings.
It's a balance between holding on and letting go, between planning and being.
Related Posts
Recent Posts by rudeysroom