My First What I Ate Wednesday
One aspect of marathon training I really haven't focused on is nutrition. I follow my training plan, I make sure to get enough sleep, but I tend to eat whatever I want and justify that all the miles I put in make it okay.
For my last marathon, I cleaned up my eating in the last few weeks leading up to the race. I cut out alcohol (which I don't drink much anyways), cut out sweets (which I eat a lot of) and focused on eating healthy foods. But for the first 3 months of training I just ate anything and everything I wanted.
This time around, I am trying to focus on making better choices. I've seen "What I Ate Wednesdays" on other blogs and thought it might be a great way to keep me accountable.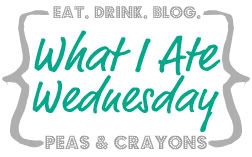 In a nutrition class I took in college we had to keep a 3 day food diary, and I was amazed at how much healthier I ate knowing that I would have to write it down.
So here is my first What I Ate Wednesday from what I ate last Friday:
Breakfast: After my run, I had a green smoothie with kale, spinach, banana, lemon and apple juice. A glass of chocolate milk, a clif protein bar and lots of water.
Lunch: I met Mike for lunch and had a turkey sandwich with swiss cheese, lettuce, onions and hummus on foccacia and we shared a bag of salt and vinegar chips.
Snack: Pineapple and raisins
Dinner: Pizza and salad while watching the Patriots preseason game.
Dessert: My favorite: homemade chocolate chip cookies
Thank you Jenn for hosting this link up!
What is your favorite post run meal?
Related Posts
Recent Posts by laceupwithkace