#McDBlogHer Closing Party: I'm Loving it!
#McDBlogHer Closing Party....What a great way to end an amazing Weekend!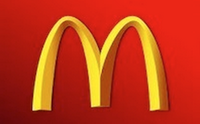 BlogHer14 started off with a kick and ended with a bang! The BlogHer14 #McDBlogHer closing party was sponsored by McDonald's and it was simply amazing. Happy Meal's and Mario Kart were the theme of the night but we also got a chance to see the amazing Rev Run from Run DMC and ...we got got to sample the awesome new addition to McDonald's Happy Meals'...Go-Gurt! We also Had a yummy McDonald's Side Salad as well! Who says Healthy Can't be fun!
This is one of many amazing #BlogHer14 Recaps I will be bringing to you!
As we happily munched on our Happy Meals , we got to enjoy dancing under the stars to DJ Rev Run of Run DMC , while swinging our arms high in the air with tubes of Go-Gurt going round and round, now that was a sight to see!
Go-Gurt is healthy for kids as well as adults, so I was super excited to see that on top of offering Apple Slices we now got a Happy Meal with Go-Gurt. Admit it, all of you adults enjoy a Happy Meal just as much as kids do! I was munching away with all the other attendee's. I have never seen so many Women & Men & Even kids all in once place get so excited over a Happy Meal, but it just goes to show, we all have a little bit of kid left in us that needs to come out sometimes.
You hear so many negatives about fast food, that the fact McDonald's not only offers the famous Apple Slices, we get a choice now which includes Go-Gurt. Okay, maybe I get a little over excited about Go-Gurt but I love it.
From Kids to Adult's we all love Happy Meal's, even if we won't admit it. Personally I don't mind admitting, I love purchasing a Happy Meal and I don't mind buying them for my kids. McDonald's has some great choices for today's Happy Meals which not only include choices like all White Meat Chicken Nuggets , Burgers , Apple Slices, Fries and the newest addition Go-Gurt! OH and I can't forget those super amazing Smoothies we had a chance to try. They simply rocked. Okay so maybe we added a little Eppa Sangria to the last smoothie ( we had a few to find our favorite flavor) but they complimented the meal and yes, I was eating healthy. So what If I had a Happy Meal ( or a few) , I had those yummy Chicken Nuggets, amazing French Friends ,which are by far the best fries in fast food, I also had apple slices and 3, or was it 4 tubes of Go-Gurt.
McDonald's has now introduced a new healthier option to the ever famous and popular Happy meal. The Low Fat Strawberry Go-Gurt which can now be found in Happy Meals across the U.S.
FUN Slurpable...Convenient... Healthy & No Mess!
MY kids go crazy for its creamy smooth delicious flavor, as I don't allow too many sweets or sugar in our house, they love having Go-Gurt in a Happy Meal now.
The new low Fat Strawberry Go-Gurt is only 50 calories per serving with all natural flavors & 25 % less sugar.
So after we were all filled up on Happy Meals with Go-Gurt and raring to go, imagine all the lovely ladies rocking out to Rev Run, twisting, shouting, taking selfies as part of BlogHer14 Selfiebration Celebration. Yes, even me, no holds barred, ran around like a little kid getting all my selfies in and playing with the awesome New Mario Kart toys. My kids are huge fans of Mario kart so seeing my Mario Kart Selie was hilarious to them.
McDonald's also has this cute new Happy Meal Ambassadors, they are super cute and hilarious. Your kids will love them and personally I can relate to them, especially the cute faces they have.
Now, look at those Happy Faces above and tell me just how adorable is that!
So, the next time your kids ask for a Happy Meal, you can be happy too as they munch away and you can join the for a Delicious, Healthy & fun meal!
P
This post was created in partnership with McDonald's. All thoughts and opinions are my own.
~~Bridget~~
Recent Posts by JustBrie