It's Fall Soup Time!
Fall is time for soup, and I love soup! I love to eat it, I love to make it, and I love to share it. Today I am making my first soup of the season, and my friend Sarah is coming over for lunch! Butternut-squash and apple bisque, just saying the name warms me up. I first made it with pumpkin, but today I am making it with butternut squash. Soup is a great meal to share, and I hope she likes it. I have been making this particular soup for many years, generally to rave reviews.
Historically bisque was a shellfish soup thickened with rice, but that changed long ago. It is traditionally made with crustaceans; lobster, crab, crayfish and shrimp specifically, but has lately come to mean a rich, thick soup finished with cream. It may seem ironic that someone as rabid as I am about the bastardization of dishes like spaghetti carbonara would play fast and loose with bisque, but I am a complex individual, full of inconsistencies. The internet is chock full of bisque facts, one of which declared my soup is just a cream soup, but it is too nice to be relegated to a name associated with the Cambpell's Soup line of cream of everything, and in fact they have just introduced a line of "Gourmet Bisques" including a "Golden Butternut Squash" but assure you, without even tasting theirs, mine is better.
Although making soup can be time consuming, it is really only the vegetable preparation that takes time, after that, you can pretty much walk away and let the heat do the work. It is well worth the time, as the soup you get is so much better than anything you can buy in the grocery store! Even if you aren't a very accomplished cook you can master soup. Start with a good recipe that you understand, and are familiar with all the listed ingredients. Even if making soup takes and hour or two, you will usually have enough for a meal for your family, and plenty to freeze for later. Just think of a freezer filled with delicious soups to choose from all winter long.
I will be posting lots of soup recipes, and there is an endless supply in every magazine and on every food related website in the universe. I started making soup when I was a teenager. Each Saturday I would get to work, at first using cookbooks, but it didn't take long for me to get the hang of what tasted good with what, and then I started getting more and more creative. Soup is a great thing to make with kids, they can learn to chop things, and stir and they are very good at watching pots. The great thing about soup is you can make it your own. Be flexible and experiment. Soup is usually pretty inexpensive to make too, so if you have an occasional disaster it's not that big a deal. I hope you'll give this recipe a try and let me know how you like it! I promise, it will warm you up on a cool fall afternoon!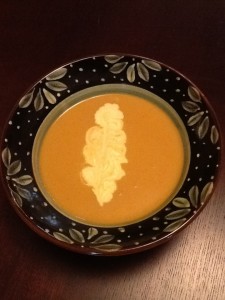 Related Posts
Recent Posts by nrlowell