Homemade Lasagna
I have family that lived in Italy for a time, and from my understanding, I've got a little Italian in my blood. That being said, I was never taught how to make Italian food, but I love to eat it. I can just imagine families getting together over a meal like this in their boisterous, joyful way; eating beautiful from scratch noodles, sauce, cheese, and bread, paired with a delicious red wine. Maybe one day that will be us, just here in America. That's a picture I'm hanging onto while I scrub down dirty high chairs and sweep a pound of sand off the kitchen floor. One day my kids will be grown and all of this will be a sweet memory; even the dirty stuff won't seem half as bad.
It's been awhlie since I've made a big meal from scratch. I'll be honest; baby Z is almost four months old and we are just barely getting around to eating meals that don't come from the freezer. This is one of my favorite meals; lasagna, fresh bread, and salad. I could eat this every night except it is so much work that I wouldn't want to make it every night. I'm going to kind of throw a recipe at you, but mostly I'd like to offer some visuals on my favorite part of the process: making ricotta cheese. Maybe I can inspire you to do your own big from scratch meal. It's worth it, trust me.
I usually make my ricotta the night before. It's a process of it's own so you might as well do it ahead of time. I get my recipe from here: http://www.hillbillyhousewife.com/curdsandwhey.htm. This lady has an awesome website! She has frugal recipes for days on it and I find something new that I love everytime. She uses powdered milk, but I buy milk when it's on sale and just make cheese with the whole gallon. When milk is $1.50 a gallon and a tub of ricotta is $5 or more, it just makes sense. Plus, the homemade stuff tastes amazing and completely different. You heat the milk in a big pot, then stir in some vinegar and let it curdle. It's pretty cool to watch, actually.
Once it curdles, you drain it and you get curds and whey. And if you want to take this time to sing the nursery rhyme while you're at, go nuts. Your kids will get a kick out of it.
Rinse really well with water, and then let it drain. Yes, I tied my cheesecloth to my faucet. You don't have to, but I thought it was an awesome idea.
Season with salt and you are done! I got two bowls of cheese out of my gallon of milk. Not too shabby.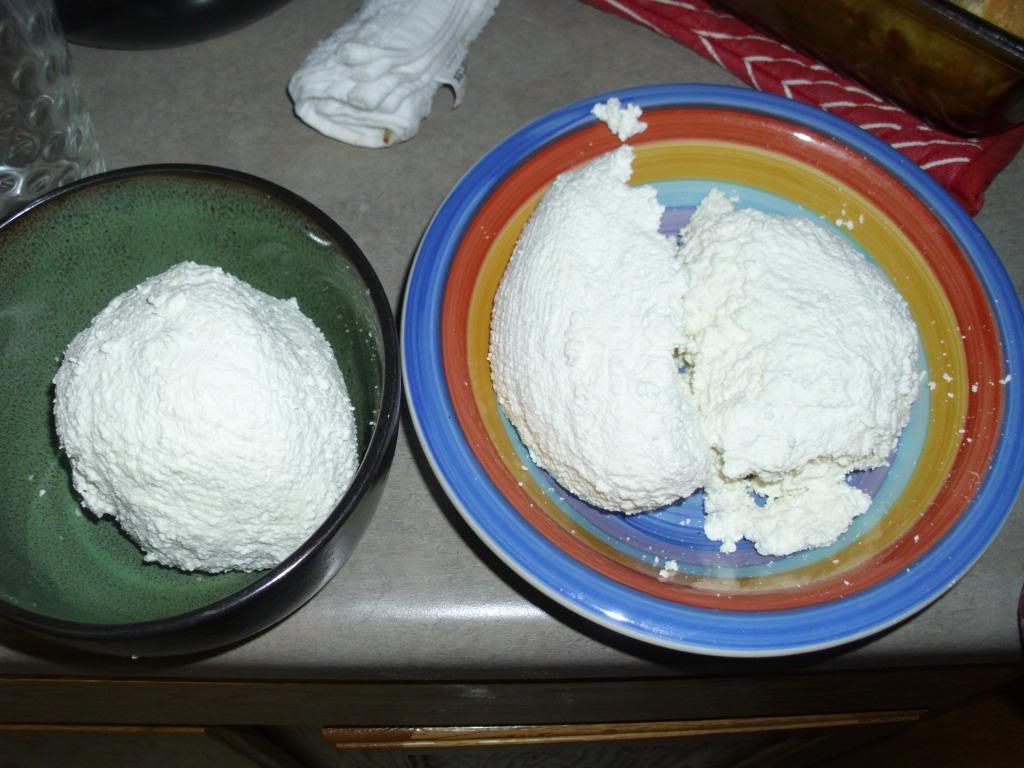 No, my bowls don't match. But that's why my kitchen is so fantastic. It's got its own style. And now you have cheese, so enjoy! It doesn't take that long in all actuality. Toss it in your fridge until the next day.
My sauce takes awhile, but most of it is waiting time. I fry up ground sausage, add onions and garlic, drain off the grease once everything is nice and cooked, then place in a large pot. I add roma tomatoes diced up, an all purpose seasoning, italian seasonings, basil if my garden is doing well, and salt to taste. I boil it, turn it down, and leave that baby on to simmer for a good chunk of the day until it reduces to as thick as I'd like it. While it's going, you work on noodles and bread if you're going to do it all. Hey, go big or go home!
You need a pasta machine to make flat, delicious noodles for your lasagna. Mine came with a recipe book in it. If you can, while you are doing this, have your husband put on an episode of Transformers and they can all enjoy some daddy time while you put dough through the machine. Or, you can let the kids run around the kitchen and worry about them spreading raw egg everywhere and they can get into a flour fight. That works too. Either way, you get this:
Related Posts
Recent Posts by SunshineyDay