NO OXYMORON – A SUMMER COTTAGE IN BROOKLYN, NYC
A summer cottage and Brooklyn are not normally two words associated with each other but artists Lyndsay Caleo, a jewellery designer, and Fitzhugh Karol a woodworker/sculptor have achieved just that with their first renovation project.

When I first read about their summer cottage in Brooklyn I was impressed by their eclectic style, clever layout and neutral colour palette with handcrafted pieces of furniture.

The artistic couple say in their own words:
It's all about creating a departure. We both grew up in the country and we designed the house to be an escape from the city. We designed the layout based on our needs, how we lived and what we had. Our design philosophy involves playing with the balance between new and old. We mix architectural elements that were created 100 years ago with furniture we make, natural elements and modern designs.

We love classically Scandinavian simplicity – particularly old summer cottages. Materials are a huge inspiration. Whether it be an old salvaged chunk of wood or a stack of white linens, materials are often what drive the vision for a space and sometimes stumbling across an object will send us in a new direction on a particular project. We also use light a lot of as a medium and we always try to move light into all corners of a project using the layouts, glass panels and whites.
Lyndsay and Fitzhugh also work for the Brooklyn Home Company, a family-run cooperative of artists and builders committed to creating world-class and innovative living spaces in Brooklyn.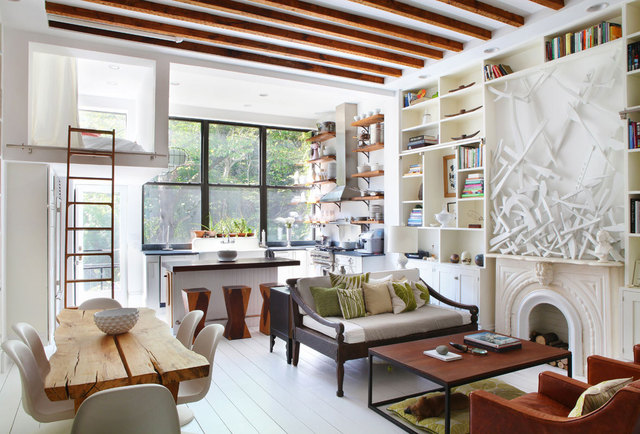 Enjoy and I hope you're inspired!
Annie x
For more deliciously fresh and inspiring ideas pop over to www.stylejuicer.com
Recent Posts by Stylejuicer