The Gifts of Imperfection-Book Review & Giveaway
The Gifts of Imperfection by Brene Brown is definitely an antidote to therapy. In therapy we look inside to see where we went wrong…but in the book, Brene reminds us to look outside ourselves and see the big picture. It's comforting when you're going through difficult life changes, to know that it's better to look at the big picture than focusing on your flaws.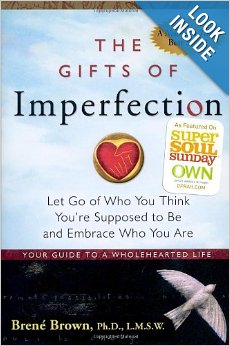 image; Amazon
The book discusses abstract concepts that we've all heard of before; embracing joy, embracing pain and vulnerability, compassion, creativity and letting go of perfection with the goal to becoming more authentic. Living a "Wholehearted life" according to Brene, means moving toward our authentic selves.
"Wholehearted Life"-Wholehearted living is about engaging in life from a place of worthiness….It's going to bed at night and thinking, yes, I am imperfect and vulnerable and sometimes afraid but that doesn't change the truth that I am also brave and worthy of love and belonging" – Brene Brown
However, expect some kick back from people in your life as you make necessary changes to reach your inner goals. HINT; saying 'no', setting boundaries are all a part of this process (stuff we've talked about here).
The book outlines the qualities required to live the Wholehearted life as 'guideposts' with definitions and personal examples for the reader to better grasp the concept. At the end of each chapter she asks us to 'Dig Deep' and find our own ways to reach each guidepost.
Read the whole post and enter to win a copy here
Related Posts
Recent Posts by Lisa Thomson