EASY DIY HERBED CHEESE SPREAD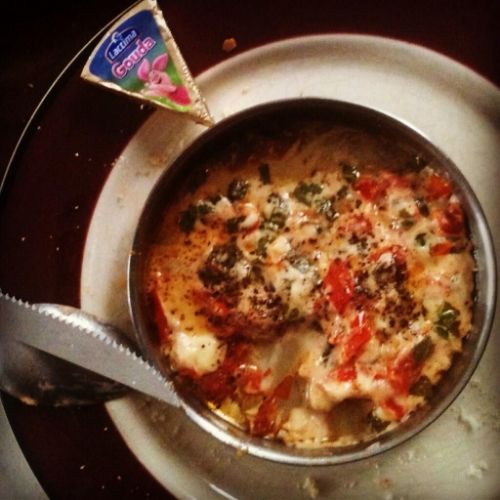 What's a good healthy snack add on, rich in calcium and easy as 1-2-3? Why cheese of course! But then ain't plain cheese a bore at times? Of course you'll find an assortment of different kinds of cheese concoctions to choose from at the store but the thing is you can take matters into your own hands and veer away from store bought preservative laden varieties.
So here's a quick question, why not make your own herbed cheese at home? I promise you won't spend too much time on it and you'll save some money too!
Ingredients:
1 tbsp. Olive Oil
2 cloves of garlic, minced
½ a tomato
2 triangles of Gouda Cheese
5 leaves of Oregano or Basil or any herb you like, chopped
a dash or 2 of Chili Flakes
Here's how:
In a skillet, heat Olive oil.
Throw in your garlic and stir a little bit until it looks a bit like it has crisped.
Throw in your chopped tomatoes. Let saute and wait til garlic becomes golden brown.
Add in the Gouda Cheese and stir it in to melt.
Add your chopped herbs. Stirring continuously.
Add in your chili flakes.
Serve on the side with sliced and toasted country bread. In a sandwich with your favorite ham, salami or roast beef cuts. May also be used as pasta sauce! Just add in more olive oil and voila. Your version of cheesy herbed Aglio Olio!
* Serves 1 - 2 depending on your cheesy appetites!
Samantha S Jones is a writer and healthy cooking enthusiast who lives life to the fullest in the company of her laptop promoting the good life and managing client relations for dance and fitness & costumes and lingerie.
Related Posts
Recent Posts by Samantha S Jones