Daydreaming of Him
I try to pull my hand from his again, but he won't release it. "No, not until I'm ready."
He laughs softly but I'm not upset by it. "When will you be ready Big Head?"
"I don't know. I'll know when I know." Yeah, it didn't make any sense the first time I read it either.
He chuckles lightly while rubbing my hands between his. After before resting his forehead against mine, he whispers gently, "You're ready but you think it means something it doesn't. You need to hear me say it, so here I am. It's ok to take them off."
I keep trying to pull my hand from his but he was always much stronger than me. My tears keep flowing and he sings the first line from the song, "The very thought of you, makes my heart sing." We rock back and forth, not so much dancing as swaying together. The pressure from his forehead eases as he moves his body from mine. He softly kisses my cheek and disappears in the same soft way in which he had arrived. Not in a poof of smoke like a ghost, but he just seemed to walk and fade. LittleTDJ appeared and grabbed my hand, while saying, "Got it Mama? Got it?" I stare at him, confused by his statement. The snow turned to rain but we weren't getting wet.
Then all of a sudden I woke up.
In the almost two years since my husband's death, I've never dreamed of him. Not ever. I think of him all the time. All the time. As in dozens of times per day. I envision moments from our life together, both the amazing and the not so great. The day he died still plays like a movie in my head at least once per day. I've dreamed of many, many people and things but not a single one had included my husband.
I do believe that dreams can be considered manifestations of our soul, our hearts, our wishes, our intuition or our desires. I believe much of the wisdom that has been passed down to me through my elders - dreaming of fish means that someone is pregnant, dreaming of birds means that death is near, etc. I can't say with any certainty that my husband visited me to convey a message. What I know is that I've been twirling and twisting my rings in a different way in the weeks preceding this dream.
Immediately following his death and in the months following, my rings were a source of comfort and they made me feel closer to him. I took offense to those that questioned me openly or silently regarding my rings and the length of time that I might continue to wear them. As time has moved forward, the rings have started to bring me small doses of pain. They've become heavy and burdensome at times. In the span of minutes, they can warm my heart with a special memory of picking out bands together before turning my stomach at the thought that they simply don't belong on my finger anymore. I have zero interest in the opinions of others, especially as it seems my choices are usually frowned upon in the few online "widow/widower" communities that I peek into from time to time.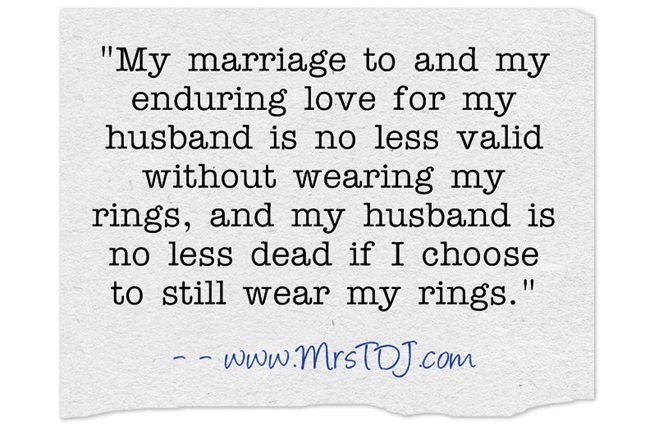 Because I'm a woman and a widow, I have to right to change my mind…often. Five weeks ago I had my beautiful rings professionally cleaned. And then I placed them in a blue satin jewelry pouch, and deposited them in the bottom drawer of my jewelry box. Who knows how long they will remain there. Perhaps I'll feel the need to wear them one day in the near future or one day 7 months from now. Or maybe they will remain there until LittleTDJ meets a great girl, falls in love and I can share those beautiful, sacred tokens that his father gave to me.