Day14......You're Fired.....A letter to the dryer that no longer works for us!!!!!
To my dearest dryer,
I would like to thank you for breaking down at the worse time possible. Only you would find it completely appropriate to stop working in the middle of a load. And not just any load. You decide that you no longer want to do your job on the first load. The first load that contains our daughter's school clothes. You know the ones.... the uniforms that you dry once a week.
Making matters worse you left you sister with a load stuck inside her. Oh did she tell you, the clothes belong to our son. Yeah the one who thinks it's cool to make you dry clothes that haven't even been worn yet. You know how he loves to make you, your sis and me work twice as hard.
This would not be that big a deal if We didn't still have to wash the hubby's work clothes. Yeah that's right, the hubby's clothes are still sitting in their bag waiting for you to do your job. Why didn't I do them first, you ask...... Well if you can remember straight you old hag, his clothes are covered in grease and oil. So we ALWAYS do them last. And why do we do them last, you ask......Well shit I didn't know you were an idiot to. We do them last so none of the other clothes and towels get ruined.
Speaking of towels, those just might be ruined too. There was a couple of them in with the other loads.
Not only have you inconvenienced me, the hubby, your sis, you have now brought the bunk bed parts out of retirement. You know the ones. They retired earlier this year from our daughter's room. Yeah those long white bars you saw. Yep you made me pull them out of retirement.
How do you do that, you ask... well you see.... since you decided that you no longer wanted to work for this family, they are being used as drying racks. That's right. They are covered in socks, shirts, shorts. Yep they are doing your job. Even they clothes line on the back porch is pulling more weight than usual.
So due to your lack of work today.... and we know this is not the first time you have left me high and un-dry, that's why there's a clothesline on the back porch in the first place........We will no longer need you service. We have officially decided to look for another dry who is will to do the job they are hired to do. Thank you for your years of service and you are officially no longer an employee of this household..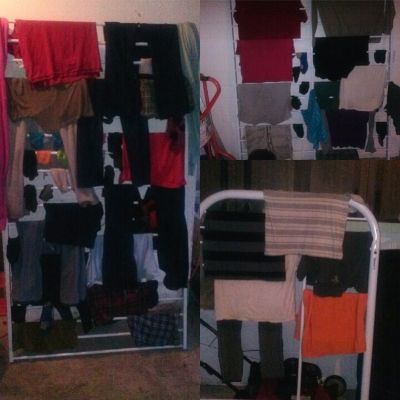 Happy writing!!!
Recent Posts by PardonMyRandomness